Police have confirmed this afternoon that four bodies have been found in Gwynedd during the search for a group of missing teenagers.
An appeal was launched late on Monday night for information on the whereabouts of Jevon Hirst, Harvey Owen, Wilf Henderson and Hugo Morris, who were last seen on Sunday morning.
In a statement this afternoon, North Wales Police said: "Sadly, we can confirm four bodies have been recovered from a car which appears to have left the road on the A4085 at Garreg, near Tremadog."
Supt Owain Llewelyn added: "At present, this appears to have been a tragic accident, and our thoughts are with the family and friends of the four young men at this very difficult time.
"This has been an extensive search involving a number of different agencies and volunteers, and this is sadly not the outcome that any of us would have wanted. We would ask that the family be afforded the appropriate privacy and respect."
Police say investigations are ongoing to establish the circumstances that led to the car leaving the road.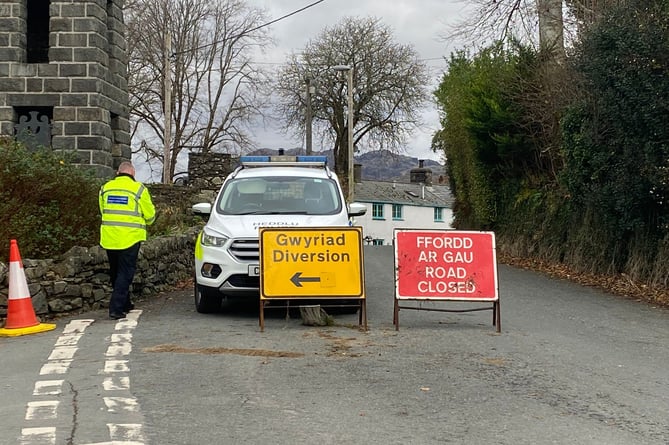 Police have closed a road near the village of Garreg
(Alex Bowen)
Reacting to the announcement, local politicians Liz Saville Roberts MP and Mabon ap Gwynfor MS, described the news as 'heartbreaking'.
They said: "This news is truly heartbreaking and foremost as parents ourselves our thoughts go out to the families and friends of the four young men whose lives have been lost in this tragic accident.
"We would like to pay tribute to the emergency services and local mountain rescue teams involved in the search operation and to members of the public for their assistance in helping to locate the vehicle.
"No words can sufficiently reflect the sorrow that this news brings to our whole community."
Cllr June Jones also spoke about the road conditions in her ward.
A statement from Shrewsbury Colleges Group earlier today confirmed the four teenagers were studying at its college.
Shrewsbury Colleges Group said: "The college's immediate thoughts are with the family and friends of the teenagers missing in North Wales.
"We can confirm that all four of the teenagers are students at Shrewsbury Colleges Group and are studying A-Levels with the college."
This evening, Shrewsbury Town FC has posted a tribute, saying: "The thoughts and condolences of Shrewsbury Town Football Club are with everyone affected by the heartbreaking and devastating news coming out of North Wales. "
Emergency services conducted a full-scale search throughout the day on Tuesday.