A conservation organisation has called on Ceredigion residents to report river pollution after several suspected incidents – and has released a useful guide about what to look for. 
The West Wales Rivers Trust is encouraging the public to be environmental 'custodians' and play a role in sparking action from authorities.  
The trust posted on social media: "Unfortunately, between two members of our team who were out on separate visits in Ceredigion, we observed six separate pollution incidents within only three river catchments.  
"Please make sure you report all visual signs of water pollution to (environmental regulator) Natural Resources Wales (NRW). 
"We understand the frustration that some have had with a lesser than hoped response to reporting incidents, but if they are not reported then there is no evidence that they have happened." 
The trust posted a guide to spotting types of water pollution featuring different images and shared the numbers of reporting hotlines.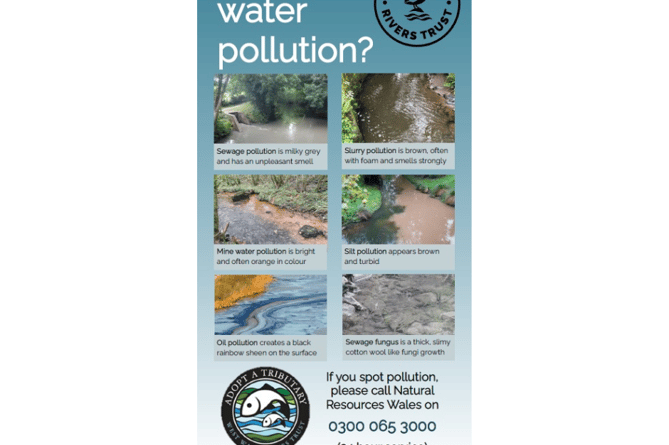 A guide for identifying different types of water pollution
(West Wales Rivers Trust)
Trust project officer Nathaniel James informed the Cambrian News that there were three suspected pollution incidents in Nant Adail – a tributary of the Ystwyth near Llanilar. He said two involved silt pollution from unknown sources and one was a storm drain carrying grey water – household waste without fecal contamination.
Another suspected incident involved grey water entering the Rheidol River near Glanyrafon from a storm overflow and drain discharge point near an industrial estate.   
There were also two recordings of heavy slurry spreading prior to rainfall near small tributaries of the rivers Wyre and Peris - which Mr James said he reported to NRW. These would not be compliant with nitrate vulnerable zone regulations in Wales, Mr James said. 
He added: "The above were reported to NRW via the incident line (0300 065 3000) and had a quick response and investigation.  
"The trust was kept informed throughout; however, the sources of incidents could not be traced.  
"It is important that the public spend time on and near the banks of our rivers to be custodians and report incidents in detail as they arise to the NRW incident line, and support movements for change." 
The trust's image guide shows what to look out for if you want to identify sewage, slurry, mine water, silt, oil or sewage fungus pollution. 
Dr Carol Fielding, NRW's Ceredigion Environment Team Leader, said: "We all have a role in protecting our local environment and we encourage anyone who suspects that a pollution or environmental incident has taken place to contact our 24/7 incident line on 03000 65 3000 or online via our website.
"We assess every single report that we receive, and respond appropriately, including sending officers out to site to investigate.
"Where a pollution incident is suspected, we would ask people to provide us with an outline of what they have seen, the location of the incident, when it happened and, if known, the cause or perpetrator."
An NRW spokesperson added: "In these specific cases, we received four reports from the West Wales Rivers Trust and we would welcome reports of the other two. Of the incidents reported to us, we were on site investigating two of them within two hours. Another was a matter for Welsh Water, which responded to the incident. We also informed the landowner who was reported by the Rivers Trust for spreading slurry of the requirements for spreading responsibly."
Dangerous levels of phosphates, nitrates and other harmful substances in Ceredigion rivers, particularly the Teifi, are being closely monitored by authorities after NRW set new targets to reduce levels last year.   
More than 60 per cent of Wales' Special Areas of Conservation (SAC) rivers, including the Teifi, are failing against their phosphates target.