CONTROVERSIAL plans to convert a former school in Cwmann into an open market house and build 20 affordable homes within the grounds have been narrowly approved by Carmarthenshire councillors after a lengthy debate.
The approval cannot be formally issued, though, as the Welsh Government has made a request to call in the application.
Objectors to the Coedmor school redevelopment scheme in Cwmann, near Lampeter, claimed there wasn't demand locally for affordable housing and that it shouldn't be permitted because many of the proposed new homes were just outside defined development limits.
They said Cwmann didn't have a shop, post office or pub, that public transport was lacking, and that the village's new primary school was full. They also had land stability concerns and were worried about the impact of the proposed new houses on surface water flooding and the sewerage system.
Citing these concerns at a council planning committee meeting was objector Eirwyn Williams, who added that the development could dilute the use of Welsh in the area, notwithstanding measures proposed by the applicant, housing association Barcud, to help non-Welsh speakers living there learn the language.
"These are good intentions but unfortunately as we know there is no certainty that this will happen," he said.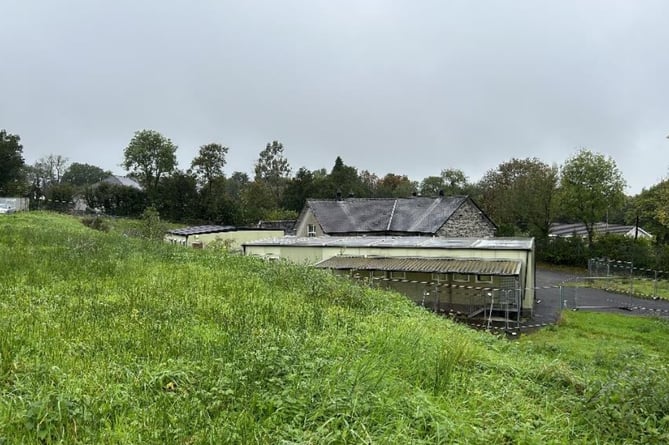 The former Coedmor primary school site, Cwmman, where 20 affordable homes are to be built
(Carmarthenshire Council )
Geraint Roberts, of Barcud, said affordable housing outside development limits could comply with planning policy as an "exception site", and that there was a need in the area for 20, if not more, affordable properties.
He said land stability investigation work had been carried out at the sloping site, that a sustainable drainage scheme had been approved, and that the application had been scrutinised by experts from the Welsh Government, which is providing a £2 million grant for the scheme.
Cllr Denise Owen, whose Llanybydder ward incorporates Cwmann, objected to the application, saying that only one person in the village had approached her in need of housing – in this instance a flat.
The committee report said there was an under-supply of social homes in the Llanybydder ward, resulting in people in urgent need of housing waiting "an unacceptable length of time".
The report said the part of the site comprising the former school house and one demountable class room was within the settlement development limits of Cwmann, but the school yard and the remainder of the site was outside.
It added that the scheme included a retaining wall, and that it wasn't likely that the houses would create an unacceptable loss of privacy for existing properties nearby.
The committee was told that surface water issues at the site would be improved via a dedicated attenuation pond, and that Welsh Water had not objected.
Responding to the concerns about a lack of facilities, a planning officer told councillors that having more houses in Cwmann might make a new shop viable. He added that the homes would give an opportunity for Welsh speakers in the area who were in need of a property to remain there, rather than having to move away.
Cllr Peter Cooper, who proposed that the committee should back the officers' recommendation of approval, said Carmarthenshire was short of 2,500 affordable homes.
Barcud must abide by a number of planning conditions and contribute £44,000 for improved pedestrian crossing points. The affordable homes comprise two bungalows and 18 one, two and three-bedroom properties, while the converted school building is to be a four-bedroom open market house.