Residents in New Quay are in shock at the news that a 75-foot 5G mast could be erected next to their homes.
The planning application proposes to build the 23-metre structure in the Quay West Holiday Park on the outskirts of the town, owned by Haven Holidays.
However, the "monstrosity" would "overshadow" Henry Dent's three-bed family home, which would sit 25 metres from his bedroom window.
The father-of-three said he's losing sleep due to the plans: "It's the only thing I'm thinking about. I'm in shock.
"It makes me angry. It's disrespectful to ask residents to stomach this whilst Haven make millions on their site."
The Freshwave Facilities Limited proposal aims to improve Vodafone internet signal to the park and surrounding area.
Since residents were notified on 15 September, posters opposing the plans have started appearing across the village.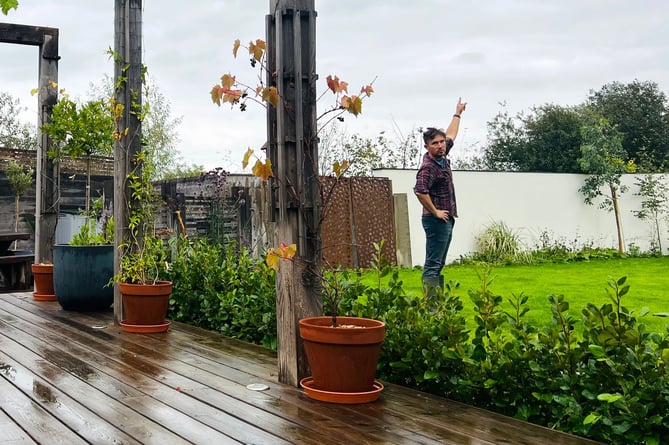 Henry Dent points to where the mast will stand and inset, signs around New Quay
Some locals claim it will lower the financial value of their properties by ruining their views of the bay, whilst keeping the caravan park vista unspoiled.
Henry, co-owner of New Quay's Cei Carpets, built his Tŷ Halen home four years ago with his partner, Loren Bromley.
The couple have been advised by a local estate agent that the mast would "significantly devalue" the £450,000 property.
In Loren's formal complaint, she wrote: "Tŷ Halen is our cherished family home that we have personally built from the ground up.
"It beggars belief that we find ourselves in this unimaginable situation."
The structure would provide "ultra-fast mobile connectivity" including higher mobile download speeds and more reliable phone connections to more people, the proposal says.
The proposal states the mast will "allow the continued provision of 3G and 4G mobile connections", which may be removed, disadvantaging the local community.
However, of the 24 responses submitted on the Ceredigion County Council planning portal, only two were supportive.
Kim Davies commented: "Quay West [Park] have enough ground to erect this monstrosity on their own grounds without the residents having to suffer this."
Rosalyn Broadhurst wrote: "I bought 24 Cwm Hallen from my parents and have been coming for over 50 years for the sea view.
"The proposal will ruin my view and be totally out of keeping with the locality. The siting would only benefit the owners of Quay West whose motive is greed."
However, Graham Blunden wrote that a similar local mast is "barely visible", adding: "It will improve mobile data coverage in what can be a very congested area, especially during the summer months."
Amy Wolfs described the plan as a "fantastic idea": "If we wish to be a borough that is proud of our tourism and hospitality, technological advances are essential."
Haven Holidays has been contacted for comment. The application will be decided at a later date.