Planning applications that would help improve mobile phone coverage near Rhayader have been refused by Powys County Council planners.
Both applications had been made by Cornerstone which is a mobile infrastructure services company partly owned by telecom giant O2.
The first application had been to install a 30-metre lattice tower to support six antennas, four transmission dishes, and other works at land at Henfron Farm, Craig Dyfnant near the Claerwen reservoir.
A second almost identical application had been made for land west of Craig Goch reservoir in the Elan Valley.
Cornerstone had said that the infrastructure was part of the Shared Rural Network (SRN) project.
Cornerstone said: "It will provide a radio base station which can be utilised by three of the main telecommunications operators to provide high quality 4G service provision to this rural area of Powys."
Rhayader Town Council had debated both applications at a meeting in July.
In both cases the council said that councillors were: "supportive of developments that improve communication networks in and around the Elan Valley."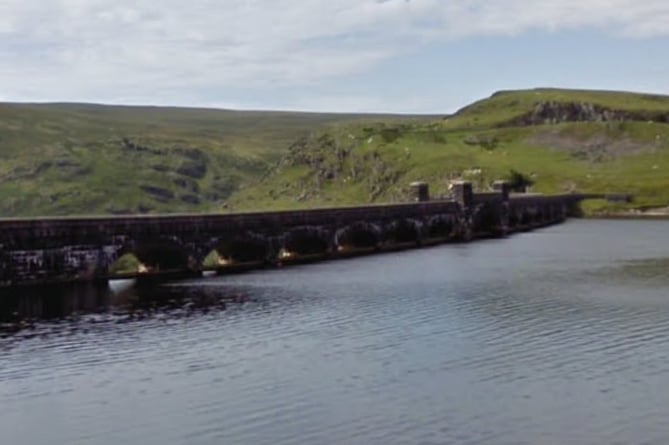 Plans for a mobile phone mast near the Claerwen reservoir, Elan Valley have been refused by Powys planners
(Google Streetview.)
But they had "concerns" about the visual impact of the plans in an area important to tourism.
Environment body, Natural Resources Wales (NRW) said that they had issues with both proposals and would object to the plans.
On the Henfron Farm scheme NRW said: "The proposal is in Elenydd-Mallaen Special Protection Area (SPA) and the Elenydd Site of Special Scientific Interest (SSSI)."
They explain that the area is an important hill land for nature conservation due to the range of birds that can be found there.
NRW said: "To overcome our objection the applicant would have to demonstrate the development will not have an adverse effect on the protected sites by providing evidence to support this."
On the land west of Craig Goch Reservoir application, NRW said: "We continue to have concerns with the application as submitted because inadequate information has been provided in support of the proposal."
They point out that the Craig Goch site is only 400 metres away from the Elenydd-Mallaen SPA and Elenydd SSI.
On Henfron Farm application principal planning officer Gemma Bufton said: "An ecological assessment has been submitted in support of the application, NRW confirm that they consider insufficient information has been submitted to demonstrate that alternative sites were considered and why they were not considered suitable.
"As it stands the development as proposed would damage features of the SPA and SSSI and there is no evidence that there is an overriding need for the development."
She explains that there is a lack of detail on how the mobile phone infrastructure would affect peat-land habitat, bird impacts, wider impact on ground water movement or any "birdbuzzer deterrent."
Ms Bufton said: "Planning Policy Wales (PPW) guidance states that development should be refused where there are adverse impacts on the features for which a site has been designated.
"In line with NRW guidance, it is considered that the proposal provides insufficient information and is therefore contrary to local and national planning policy.
"The recommendation is therefore one of refusal."
The council's planning portal shows that the Craig Coch proposal has also been refused although no detailed report has been published yet.