REDUCING funding for equality and inclusion, putting a freeze on the hiring of PCSOs, and slashing the rural affairs, education and Welsh language budgets will mean the Welsh Government can funnel extra cash into the NHS and to keep trains running while protecting grants to local councils.
Earlier this year, First Minister, Mark Drakeford announced that £900 million worth of cuts had to be made to balance the books in its £20 billion budget.
Last week, Rebecca Evans MS, Minister for Finance and Local Government, said that the Welsh Government will provide the NHS in Wales with an extra £425 million this year after announcing a slew of cuts across departments.
Transport for Wales will also see its budget increase by £125m this year to help 'safeguard services for passengers and continue the programme of transformation', and the local government Revenue Support Grant (RSG) which forms part of the core funding for local authorities will be protected.
However, to find the extra cash, budgets from across the Welsh Government have been slashed.
Ms Evans said the education and Welsh language budget will be revised down by £74.7 million, while the finance and local government budget (excluding the RSG) will be revised down by £28.5 million. The economy budget will be revised down by £28.6 million, while the rural affairs budget will be revised down by £17.3 million.
The social justice budget will be revised down by £7 million and the budget for the running costs of the Welsh Government will be revised down by £27.5 million.
Money will also come from capital budgets where projects have yet to start, with the climate change capital budget lowering by £37.7 million, the education and Welsh language capital budget going down £40 million, the economy capital budget reducing by £36.5 million, and the rural affairs capital budget going down £20.2 million.
Key cuts outlined in the report - which will make up the supplemental budget slated to be introduced in the Senedd in February – include a £4.2m in funding cut for Equality, Inclusion and Human Rights budgets, saving more than £1.5m by freezing recruitment of Police Community Support Officers (PCSOs), and cutting the free school meals budget by £11.5m.
The PCSO freeze will "predominantly affect the North Wales and Gwent policing areas," the report said.
Money will be saved by releasing £19m capital from the Welsh Government's Empty Homes scheme by deferring projects, and £14.5m from regeneration by completing committed projects "over a longer time frame."
A total of £3.5m has also been saved from a "range of uncommitted transport schemes."
As part of the package of changes, the Welsh Government will make up to £100m available from in-year reserves and the Wales Reserve, and will ask the UK Treasury to switch some capital funding to revenue funding this financial year – a mechanism regularly used by the UK Government to help manage its budgets.
The package also includes an expectation there will be consequential funding to come from the UK Government as a result of increased spending in devolved areas, most notably public sector pay.
Rebecca Evans, Minister for Finance and Local Government said: "We have worked hard across the government to put together a package of financial changes which protect Wales' public services, NHS and transport.
"We have made difficult yet prudent decisions, which protect people and will help to minimise, as far as possible, the impact of these extraordinary financial pressures on the key services on which we all rely.
"But I want to be clear, even though we have been able to re-direct additional funding into health and transport services, the NHS, in particular, still faces some extremely difficult decisions as a result of the challenging financial position.
"The combination of persistently high inflation, more than a decade of austerity, and the UK Government's mismanagement of the economy means all public services are under intense pressure. Unfortunately, these are incredibly difficult times."
'Further cuts would jeopardise schools'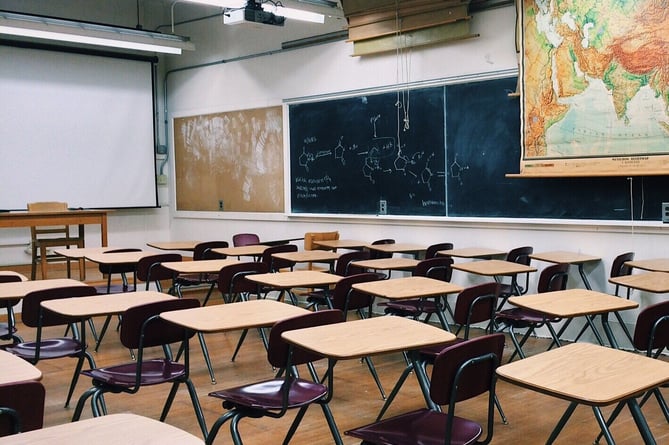 SLASHING the education and Welsh Language budget to accommodate more health and transport spending in Wales is a "big concern", a teachers' union has said.
Laura Doel, National Secretary of NAHT Cymru said: "Such a significant funding cut from the education and Welsh language budget is deeply concerning, but not unexpected given the £900m gap in the Welsh government's budget.
"We have been very clear that core funding for schools must be protected and that ring-fenced government grants for education improvement and deprivation funding must remain in place at a bare minimum.
"Inflationary pressures go far beyond government, with schools already struggling to make ends meet, so we are urging the government to look at all areas of education spending in order to protect frontline services.
"The current government review of the costly school improvement consortia is crucial to ensure they offer at least the same value as investing in teachers and leaders
"Protecting education is an investment in the future of Wales and therefore the government and local authorities must continue to work with education unions and the profession to keep the school gates open.
"Current funding levels are already seeing schools having to make redundancies to balance their books. Anything further would seriously jeopardise schools' ability to function."
She added that "the government seems confident that there are sufficient funds to continue with universal provision and we hope this is the case," over the cut to primary school free school meals budget.
Cut to rural affairs a 'significant blow'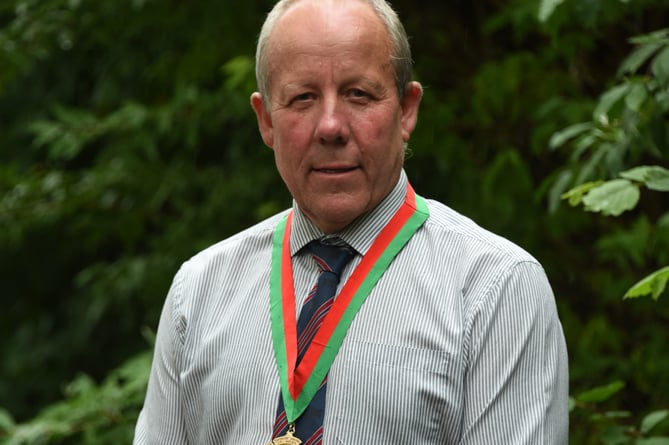 Farmers' Union of Wales President Ian Rickman
(FUW)
The Farmers' Union of Wales has expressed "major concern" over the "significant cuts" to rural affairs spending in Wales.
The fresh package of financial measures to protect and increase both health and transport spending, will see a drop for rural affairs in Wales of more than £37m.
The Farmers' Union of Wales President Ian Rickman said: "The fact that the budget allocation for rural affairs could be potentially reduced by over £37 million represents a significant blow to the industry.
"This is extremely concerning given the important work being undertaken by the Welsh Government's rural affairs department at a time of major transition and pressures for farmers and the rural communities they support.
"No administration is immune from spending cuts and we fully recognise that there are pressures outside of the Welsh Government's control.
"However, budget cuts of this significant nature call into question the ambitious environmental targets posited by the Welsh Government.
"Without proper and ambitious support for food production and environmentally sustainable farming it will be difficult for the industry to meet the aspirations of the Welsh Government in these areas."
'Funding freeze takes future officers off the streets'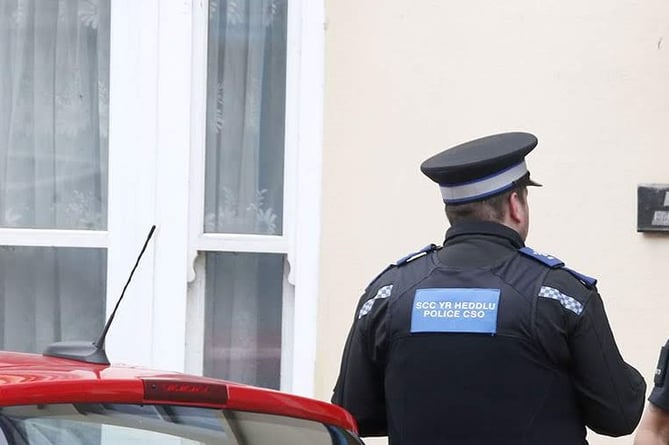 A freeze on recruitment of PCSOs has been announced
(Cambrian News)
A PLAN to freeze the recruitment of Police Community Support Officers (PCSOs) in north Wales is "concerning" and will take future officers off the streets.
The Welsh Government plan to save £1.5m by instigating a hiring freeze on PCSOs - with North Wales and Gwent most affected.
Welsh Conservative Shadow Social Justice Minister, Mark Isherwood MS said: "It is concerning that the Labour Government have chosen to freeze recruitment of new PCSOs.
"This further highlights Labour's hypocrisy after previously spreading misinformation that the Welsh Conservatives planned to cut PCSOs, despite this being untrue.
"In fact, increasing PCSO numbers was one of our manifesto pledges.
"Labour have frozen recruitment, effectively taking future officers off the streets."
WLGA 'concerned' over future finances
THE Welsh Local Government Association has welcomed the move to protect the core funding of county councils in Wales - while budgets in other departments are cut to balance the books – but remain "concerned" about local authority finances moving forward.
The WLGA said: "These are not easy decisions, and we would support the Minister in protecting local government core funding in 2023-24.
"We also support the basic principles that the Welsh Government has applied in protecting front-line services, jobs and the most vulnerable.
"As the WLGA we wrote to the Treasury back in the summer making the case for additional funding in Wales and for more flexibilities in the way Wales is funded.
"We remain concerned about the programmes which will not proceed and the impact on budgets next year.
"Local government budgets are facing a pressure next year of £720m which is about 10 per cent of our net expenditure.
"The funding available will not cover it all and we face a considerable funding gap.
"We will be working closely with the Welsh Government to achieve the best possible outcome for local services."
Call for constitutional reform
UNISON Cymru/Wales is calling for constitutional reform in reaction to the Welsh government's latest financial statement.
The union says workers in Wales are being let down badly and the only path to a long-term solution is through fundamental changes to the United Kingdom.
Jan Tomlinson said: "Low paid workers and their families, who are already feeling the effects of the worst cost-of-living crisis for a generation, are the ones who will feel these cuts the most.
"Slashing spending in important areas such as free school meals and policing will only make matters worse. Wales has some of the highest areas of deprivation in the UK and the current devolution arrangements all too often lead to confusion as to who is responsible and who has the power.
"Change is needed as quickly as possible."