NEW Quay has said goodbye to its lifeboat after 31 years of service in Cardigan Bay.
On Tuesday, the Mersey class lifeboat, Frank and Lena Clifford of Stourbridge, left New Quay for the last time.
The lifeboat was on service in New Quay for over 31 years and, until her retirement last month and was the last serving Mersey class lifeboat in Wales.
Launching on service 219 times, assisting 216 people and saving 21 lives, the lifeboat has served Cardigan Bay since April 1992, when New Quay's Oakley class lifeboat was withdrawn and a brand new boathouse was completed to house the new Mersey class lifeboat.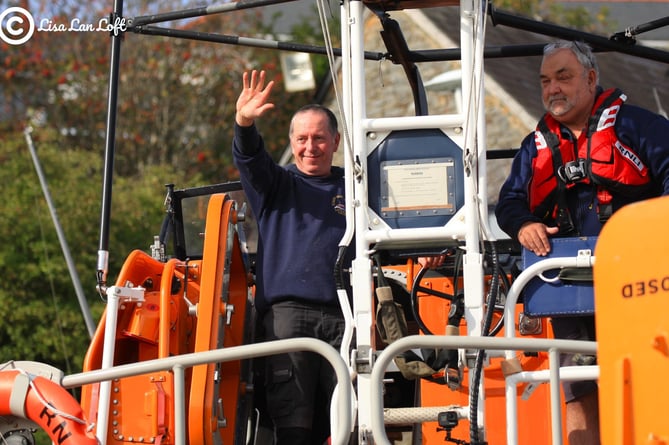 Bernie Davies, Station Mechanic (left) and Daniel Potter, Coxswain (right)
(Lisa Lan-Loft)
Launching the Mersey for the final time, Daniel Potter, New Quay RNLI's Coxswain said: "It is a very emotional day. I've been on the crew for 42 years and coxswain for 29 years, most of her lifetime here. She has been a fantastic lifeboat and has always brought us home safely.
"It has been an honour to serve as coxswain of the Frank and Lena Clifford of Stourbridge, a role I thoroughly enjoy. I am indebted to my friends, Winston Evans and the late Mervyn Thomas, who taught me a lot about lifeboat operations, and to the brilliant people who form the crew. We all have to rely on each other and I get tremendous cooperation from everyone concerned."
Since June, the New Quay RNLI volunteer crew have undergone intensive training before the new Shannon class lifeboat, the Roy Barker V, was officially placed on service last month.
Dan added: "It was also an honour to bring home our new Shannon class lifeboat earlier this summer, and now this marks the transition to the future of all-weather lifeboat operations in New Quay and in Ceredigion."
Mersey class lifeboats were built between 1987 and 1993 and cost £350,000.
With a top speed of 17 knots, the Mersey was the first fast carriage launched lifeboat when she was introduced to the RNLI's fleet in 1988, replacing the Oakley and Rother classes, which had a top speed of 8 knots.
Roger Couch, Lifeboat Operations Manager said: "The Frank and Lena of Stourbridge has been a reassuring sight to all who spend time at sea in Cardigan Bay and a huge part of our lifesaving history. She will be missed.
"After leaving New Quay, she will initially be in the RNLI's relief fleet, providing cover for other Mersey class lifeboat stations. Once their operational life with the RNLI has come to an end, lifeboats are sold by the RNLI and purchased for domestic use, marine businesses such as, diving, fishing and pleasure trips or by maritime lifesaving institutions in other countries to continue in a lifesaving role. We bid a fond farewell to our Mersey class lifeboat and wish her the best in her retirement."
At a cost of £2.2m, the new Shannon class all-weather lifeboat now stationed at New Quay was 2.5 times more expensive to build than the Mersey, even allowing for inflation*. The RNLI is a charity and is independent of the government - less than 1% of its funding comes from government sources. The RNLI's lifesaving service depends on the kindness of its supporters, with 92% of RNLI's total income coming from donations.
Roger added: "Now we look to the future with our state-of-the-art Shannon class all-weather lifeboat. She's the first RNLI all-weather lifeboat to be propelled by waterjets instead of traditional propellers, making her the most agile and manoeuvrable all-weather lifeboat yet. Designed to revolutionise the way we save lives at sea, the Shannon class lifeboat is almost 50% faster than the Mersey, with a top speed of 25 knots – a crucial factor when lives are at risk.