An Aberystwyth-based archaeologist has celebrated the release of his new book by hosting a talk at Ceredigion Museum in Aberystwyth.
Hillforts of Iron Age Wales by Dr Toby Driver is the result of two years of research and writing, as well as many years of archaeology work carried out across Wales.
The book takes you back to Iron Age Wales - exploring the hillforts, villages and people of the period. It paints a picture of how early Wales developed, and how its people battled against the encroaching armies of the Romans, who, after 30 years campaigning, conquered the Welsh lands.
Centuries old questions are answered in the book, including the mysteries of how hillforts were engineered and built, how the location they were built on were carefully chosen to oversee resources and territory, and the religious significance of the locations to Iron Age people as well as why prehistoric communities chose to live inside fortified villages.
Exploring coastal trade across western Wales in prehistory, along with the weaponry, industry and ways of life of the Iron Age people, the book also looks at the worlds of religion and ritual which led to the crafting of "prestige metalwork" which has been preserved in the lakes and bogs of Wales for thousands of years.
The book includes results from the latest research and the most recent discoveries made across Wales as well as discussing the "pioneering" investigations of early archaeologists. Over 200 photos taken from the ground and the air, reconstructions of Iron Age sites, maps and a timeline showcasing the crucial points in Wales' Iron Age history are also included.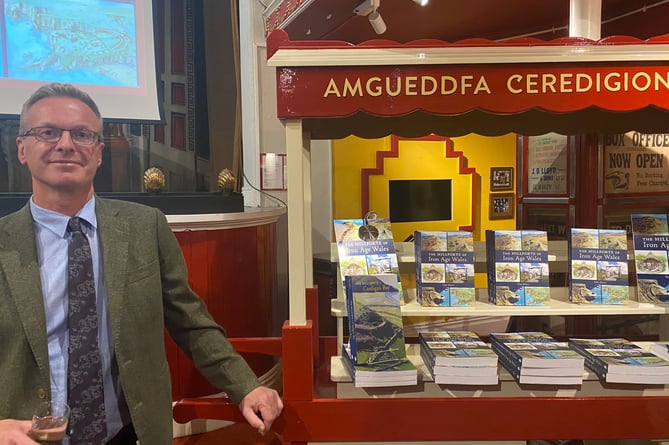 Dr Toby Driver gave a talk on his new book at Ceredigion Museum in Aberystwyth
(Picture supplied)
Dr Driver is a specialist in the prehistoric and Roman archaeology of Wales and has written, lectured and broadcast widely on the subject of hillforts.
He is the author of The Hillforts of Cardigan Bay and works as an aerial archaeologist with the Royal Commission, Wales.
He is a trustee of the Cambrian Archaeological Association and a Fellow of the Society of Antiquaries of London.
Discussing his new book, he said: "It's really great to see Hillforts of Iron Age Wales published, and to have such a good turn out at the talk.
"The book's got plenty in there about Ceredigion and Cardigan Bay, local readers will see Pen Dinas, Castell Nadolig (Christmas Castle), and have many questions answered about what was going on here back in the Iron Age.
"The hillforts of Wales are one of the country's greatest legacies of a rich prehistoric past. From Anglesey to Chepstow and from mountain summits to the coast, this book will explain how people built and lived in hillforts, their ways of life, industries and crafts and which are the very best hillforts in Wales to visit and explore."
Hillforts of Iron Age Wales by Dr Toby Driver is published by Logastan Press.