Seas, rivers and waterways in Ceredigion endured some of the highest levels of sewage pollution in England and Wales last year, new figures have revealed.
New data released from the country's primary water supplier Dŵr Cymru and environmental regulator Natural Resources Wales estimates that Ceredigion saw more than 3,800 dumps last year – equating to a total duration of 33,000 hours or about four years of overflow.
This is the ninth highest of any constituency in Wales and England – though the duration of combined discharges has fallen by nearly 6,900 on 2021.
The River Teifi, data suggests, saw the second longest total duration of discharges of any river in the country last year – and the sixth longest of any in Wales and England.
There were about 1,900 separate discharges in the Teifi, Wales' longest river, equating to about 14,000 hours of overflow.
The River Dyfi endured about 320 hours of combined sewage overflow from about 56 separate dumps. And the Ystwyth, which leads into the Rheidol, saw 1,500 hours of spew from about 200 discharges.
When it comes to beaches, New Quay beach saw a dramatic inflation in discharges reaching a duration of 1,800 hours (up nearly 400) from 138 separate incidents during last year, bucking a downward national trend.
It saw the fifth most sewage overflow of any beach in Wales.
Aberystwyth South saw 1,500 hours of discharges, down a quarter on the year before, and nearly 200 individual dumps.
It saw the ninth longest combined duration of any Welsh beach.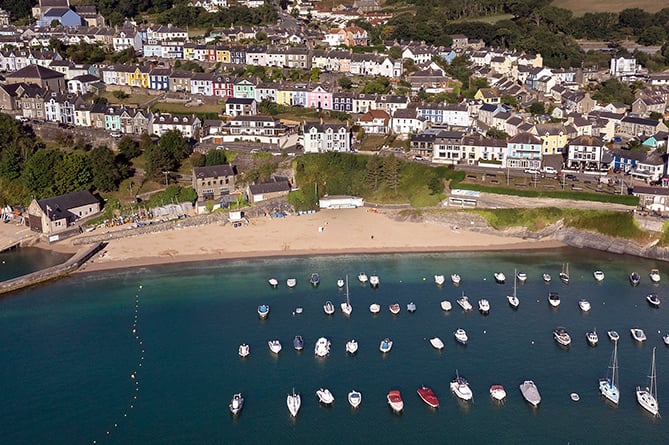 New Quay beach saw a dramatic inflation in discharges
(Crown Copyright)
Controversy surrounds the practices of the UK's private water companies which are legally entitled to release sewage to relieve pressure on the system, mostly during periods of extreme weather.
The private water sector refers to such discharges as combined storm overflows (CSOs) and warns of flooding and damage to the system if they are prevented. But opponents say companies have neglected an antiquated network of pipes which increases the need for the divisive practice.
In what the water industry is hailing as a success, rates of storm overflow across all the nation's providers are down for the second year running.
A Dŵr Cymru spokesperson told the Cambrian News there was a 12 per cent reduction in the average number of releases per storm overflow compared 2021, as well as a 25 per cent reduction in total spill duration in 2022.
The Top of the Poops website, which collated the data, told the Cambrian News: "There was a modest reduction in sewage overflows in 2022, compared to the previous year, however 2022 also saw a lower-than-average rainfall – so really this outcome cannot be linked with any affirmative action by any water company – it is just their luck.
"There is no reason, except in genuinely exceptional circumstances for raw sewage to be poured into our waterways.
"Circumstances like these might occur once every few years, not hundreds of thousands of times a year – in the case of Dŵr Cymru.
"It is a diversionary tactic to talk about agricultural run-off. Of course, this should be addressed - it is simply corporate whataboutery, as part of the 'deny, delay, deflect' communications strategy. "
"Dŵr Cymru releases sewage 218 times a day, on average, into Welsh (and some English) waterways.
"Should the chief executive be paid £560,000 for this?"
Sewage overflow in our rivers
River Teifi
14,000 hours of overflow
1,900 separate discharges
Ceredigion Liberal Democrat leader Cllr Elizabeth Evans said: "It is tragic that Ceredigion has some of the most sewage-filled rivers in the entire UK. This issue is placing human health in danger alongside our wildlife and tourism industry."
A Dŵr Cymru spokesperson said: "While we are pleased to see the reduction, which is in part due to the investment work we are undertaking to reduce spills, the reduction has also been influenced by the weather we saw last year.
"The annual rainfall for the year was 10 per cent below the long-term average and we saw the driest January to August period since 1976.
"The total removal of combined storm overflows from our system is unaffordable and would take decades and therefore is not an option but what is in our control is the ability to target investment to CSOs which have the biggest environmental impact.
"Our investment to date in our wastewater system has delivered real improvements and helped ensure Wales has over a third of the UKs Blue Flag beaches while only having 15 per cent of the coastline and that 40 per cent of our rivers and water­bodies meet good ecological status compared to 16 per cent in England."
An NRW spokesperson said: "We know that sewer overflows exist and are necessary to prevent flooding people's homes with raw sewage.
"Our role is to ensure that permits to discharge, issued by NRW, are complied with by water companies.
"We also ensure that the sewer network is improved to reduce or eliminate spills and to make sure that it is operating as designed and to the latest standards.
"We have a programme in place with water companies in Wales to investigate and rectify any issue of non-compliance. We assess whether there is an environmental impact from the discharges and require the appropriate investment to deliver improvements to the wastewater infrastructure."