THIS is the scene outside Ystwyth Surgery in Aberystwyth this afternoon as people queue for the Covid booster jab.
Queues have been seen 'around the block' as people wait in line to get the combined Covid-19 and winter flu jab at Ystwyth Surgery near Parc y Llyn retail park.
Those in the queue told the Cambrian News they had been in line for around two hours waiting for their jab at the drop in clinic, which is for people aged 65 and above, between 1 and 4pm.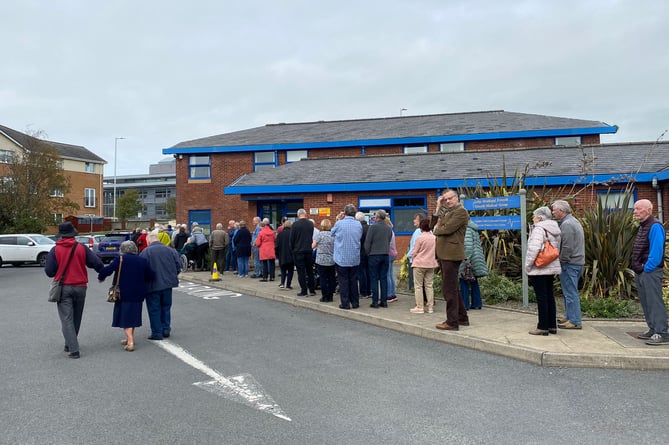 People queued for around two hours at the drop in clinic
(Cambrian News)
Drop in sessions for the over 65s are being held on Thursday, 19 October and Thursday, 26 October.
In past years, the vaccines have been available at other surgeries across the region, but it is believed this year, they are only available at Ystwyth Surgery.
Cambrian News reporter, Alex Bowen, spoke to those in the crowd who ha been queuing for more than an hour and a half.
Susan and Julian Davies, who had just received their booster said: "We were queuing for an hour and a half. Everyone here is over 65, some are carrying walking sticks, others are in wheelchairs - people who struggle to get in and out of their cars are all queuing.
"It's been chaos for people trying to park, they've had to park anywhere they could find a space.
"A delivery driver had to come over earlier and call out then registration of a car that was blocking him in. There are empty places in town that could have offered the service, right across the road you've got the county council offices which are empty and would have given people places to sit while they queued, and also gave people plenty of space to park. It doesn't feel like it's been thought through at all."
"Despite that, it's very quick once you're inside the surgery, and everyone here is in high spirits and have plenty of humour to lighten the experience. The bottom line is that we managed to get the vaccine."
The queue surrounded the GP surgery
(Cambrian News)
Margaret, who was on crutches recovering from a broken leg, said: "I'm struggling to stand and there are people who have it worse than me. They could have put seats outside for people, it's the least they could do.
"It's a fiasco, why didn't they use the county council offices where there are seats and more spaces for cars to park?"
Gay Bostock told the Cambrian News: "I can hardly walk, so I feel terrible. I've been queueing for an hour and a half. I wish there were chairs we could use while we queued."
Janet Wilson said: "I'm absolutely furious and think the situation here is totally unacceptable. It's wicked that we're made to wait so long. Why is there no appointment system? People are having to stand here - people who were stumbling in and out of their cars."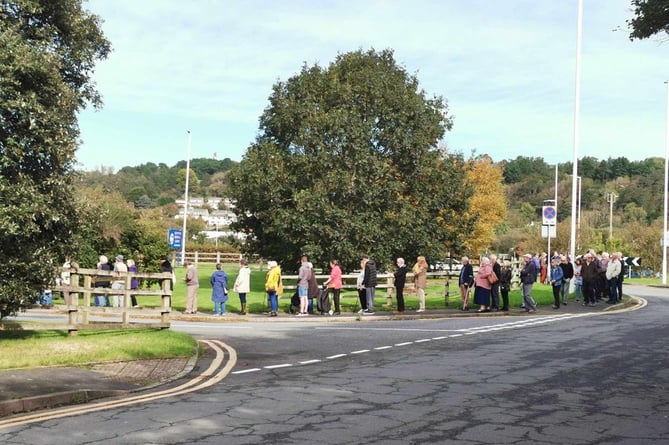 The queue outside Ystwyth surgery this afternoon
(Charlie Priddy)
Roger Bray said: "There's got to be a better system than this. could they not do this alphabetically so you know when you or your group are meant to show up?"
Elined, whose local surgery is the Church surgery on Portland Street, said: "I'm very disappointed that our own surgery couldn't offer the booster vaccines. I want to know what caused the other surgeries to pass this work elsewhere."
"There are many over 65's here who shouldn't be standing for hours."
One queue member, who didn't give their name, quipped: "We're British so we're used to queueing. We're just glad it's not raining."
Health bosses said they welcomed the high take up of the booster jabs, but did not acknowledge the long queues.
Bethan Lewis, Hywel Dda University Health Board's Assistant Director of Public Health commented: "We work closely with the Ystwyth GP Surgery in Aberystwyth which has been running vaccination clinics.
"Thank you to all the GP surgeries who are working hard to provide the vaccinations to the most vulnerable members of our community.
"I am really pleased to see the take up of Covid and flu booster vaccination is high and the high number of people attending drop-in sessions. By getting their vaccination people are not only protecting themselves but also their family, friends and their communities. I would advise all those who are eligible to do the same in order to protect the resilience of our health and care services this winter."