New opportunities to advertise to Cambrian News readers online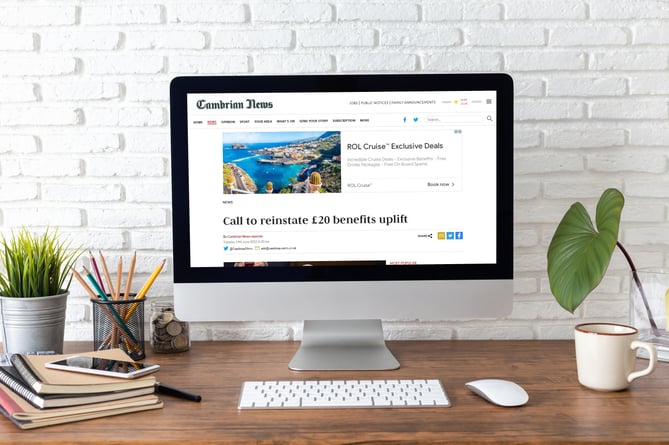 There is a variety of options for advertisers looking to promote their product or service on the new-look Cambrian News website
(Cambrian News )
Advertisers looking to get maximum exposure from delivering key marketing messages to engaged local audiences can pick from five exciting new opportunities on offer from the Cambrian News.
The website for our title, www.cambrian-news.co.uk, has recently been transformed with a more modern design, along with new features including a What's On section for local events and easier ways for people to submit their news stories.
To take advantage of this enhancement, our commercial team are providing local advertisers with a host of new digital marketing tools to reach the growing number of people in our community who visit our website for the latest news, sport and local information.
The range of new packages including Homepage Takeovers, whereby a single advertiser can appear in all the key advertising slots on the website homepage for up to one week, and Native Advertising, which sees professionally written promotional articles of up to 500 words appear online filled with links to your website and positive messages.
For high impact, we are partnering with AdMessenger to offer prominent advertising spots on the homepage which feature short messages and logos to encourage users to click through, which is an eye-catching opportunity we believe works well for sales, store openings, events and special offers.
As the trusted local publisher, we are now offering Multi-Format packages which provide a selection of impactful advertising opportunities for your business or brand. If you sign up for our Extended Reach marketing offer, we deliver your adverts not just on our website but across other well-known and creditable sites in local areas.
Paul Higman, sales director for Tindle Newspapers, Wales and The Borders, publisher of the Cambrian News, said: "The recent relaunch of our website comes on the back of significant investment in enhancing our digital offerings as part of our role as a family-owned company committed to supporting businesses in the areas where we are proud to serve the local community.
"We are pleased and proud to be offering fantastic digital advertising packages on your local trusted news websites and are committed to supporting our business partners with a value for money, direct route to the customer.
"We are experiencing rapid month on month audience growth as more people head online for their local news, so now is the perfect time to reach out to us and start your digital journey with the Cambrian News."
Operating in some of the most beautiful locations in the UK, Tindle Newspapers, Wales and The Borders, hold our communities together with valued local news, delivered in successful local newspapers and online.
Our aim is to publish the stories that matter most to engaged local people, creating marketing opportunities to deliver messages for brands large and small.
As we continue to protect and grow quality local journalism, Cambrian News is considering experimenting in the future with some form of paid-for content on our website.
If you'd like to help shape how that may look and secure some free credits if we do go live then please register  here.