A 'first-class' electric off-road motorcycle and trials training facility based near Cenarth has been given the go-ahead to keep running by county planners.
Applicant Steve Garner, who has a motorcycle competition career spanning over 40 years, sought permission for the retention of an electric motorcycle off-road and trials training business and the change of use of agricultural buildings on the site at Coedcwm Isaf, Cenarth associated with the Trydan Off Road Centre.
The application, supported by local community council Beulah, was conditionally approved by Ceredigion county planners despite objections by the authority's Highways & Environmental Services on grounds including a substandard access to the nearby public road.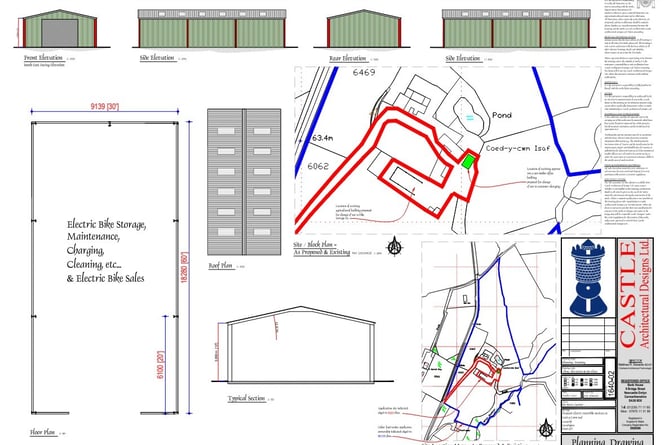 The plans for the Cenarth site
(Ceredigion County Council)
Review website TripAdvisor has seen 54 reviews of the facility to date, all of them scored at five, the maximum, with one reviewer writing: "Absolutely amazing experience. Steve is a brilliant teacher for helping youngsters overcome the fear factor. Within 10 mins our daughter (10), who's never ridden a motorbike of any kind was smiling and confident in riding up and down with a smile on her face.
"A truly first-class experience and definitely will be returning for more. A venue like this has been long overdue."
Agent Castle Architectural Designs Ltd, in a supporting statement, stressed there would be no new buildings erected.
"The aim of Trydan Off Road Centre [Welsh for Electric] is to move away from traditional petrol-driven motorsport in the form of environmentally friendly electric off-road and trials machines, using state-of-the-art Oset competition bikes that are already taking on petrol bikes and beating them at British Championship level," the statement, including the words of the applicant himself, said.
"The bikes are built in various sizes to cater for riders from as young as three years old right up to adult.
"They are perfect for teaching with as they are fully adjustable for speed, power and response and have no hot parts. Due to being electric they emit no fumes and are virtually silent. At some point in the future we aim to install solar panels to our workshop building to be able to recharge the bikes batteries to work towards becoming carbon neutral."
Stressing trials was not a speed-related sport, the statement added: "Trials is the safest form of motorsport requiring skilled control of throttle, brakes and balance. We also feel given the opportunity, we could work in partnership with local schools and with special needs children and adults to provide a very rewarding and confidence building experience."
Trydan Off Road Centre is listed as an Oset Off Road Academy, one of only two in the UK, with £30,000 already invested in bikes and safety equipment by Mr Garner, who moved to Cenarth nearly two years ago.