PLANS to install a 5G mast in New Quay, that were met with opposition by some residents, have been withdrawn.
The planning application had proposed to build the 23-metre mast at Quay West Holiday Park, owned by Haven Holidays, providing improved mobile phone coverage in the region.
However, some nearby residents dubbed the proposed mast a 'gargantuan eyesore' and said they were 'losing sleep' over the plan.
Speaking to the Cambrian News earlier this month, Henry Dent, said his three-bed family home, would sit 25 away from the proposed mast and said he was concerned that the application would 'significantly devalue' his home.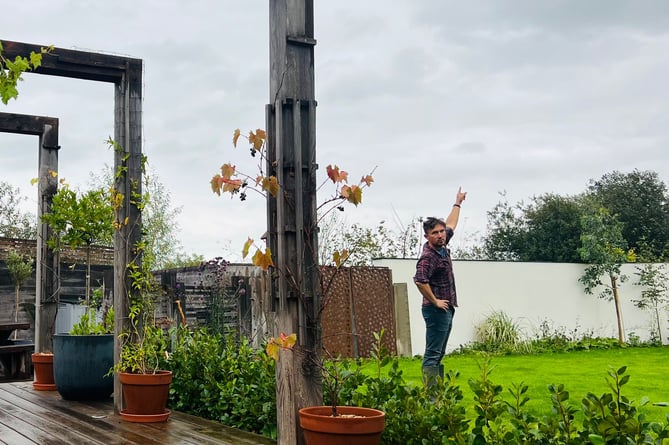 Henry Dent pointing to where the mast would have stood
(Supplied)
In the original planning application, Freshwave Facilities Limited, said the mast would both boost the signal in the caravan park and allow the continued provision of 3G and 4G mobile connections to the surrounding area, adding: "The consequence of not doing so is that users of the network would find that the services they previously had access to are either limited or removed.
"The installation would also provide improved 5G services for Vodafone, introducing ultra-fast mobile connectivity capable of operating the 'Internet of Things'. This new infrastructure will provide much higher mobile download speeds and more reliable, quicker phone connections."
There was however support for the application from residents, with Amy Wolfs writing to Ceredigion County Council to say: "Fantastic idea. If we wish to be a borough that is proud of our tourism and hospitality, technological advances are essential."
Graham Blunden also was in favour of the application, said "it will improve mobile data coverage in what can be a very congested area especially during the summer months. As to health concerns, there really isn't anything to fear. 5G signals are non-ionising as they are way below the harmful part of the spectrum."
Following the concerns locally, Ceredigion County Council confirmed on Wednesday, 18 October, that the application has been withdrawn by Rapleys, the agents operating on behalf of Freshwave Facilities Limited.