The business was set up by husband-and-wife team Gerallt and Ann Evans in 1973. Over the 50 years since, the dealership has grown into a family-run business with three generations of the Evans family taking part in its running. 
The dealership, situated in Ffordd Newydd, offers a range of Toyota vehicles and a range of servicing options for anyone looking to get a new or secondhand car.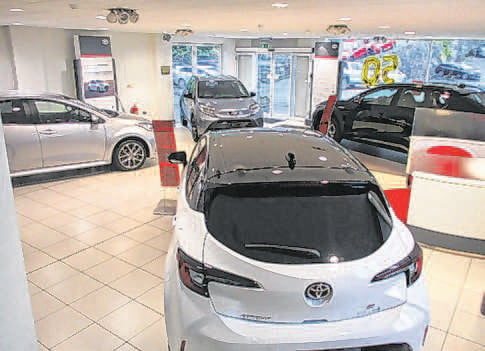 The dealership offers a range of Toyota vehicles and a range of servicing options for anyone looking to get a new or secondhand car.
(Provided)
Being a family business is something important to the Evans family, as well as their local customers. 
Iwan Evans, son of founders Gerallt and Ann, said: "I think we're quite unique for being a family run business. It's an important fact for us, and for our customers – we've got incredibly loyal and long-standing customers who can be confident that the business is, and will continue to be, in good hands." 
Proving the success of the family mindset at Toyota Harlech, the dealership has been rated the best in the country when it comes to customer service.  
Iwan said: "We offer very good customer care and service, and that plays a big part in our success as customers trust us and come back again to do business with us.
"Toyota dealerships across the country measure their customer services through questionnaires, and we've been the best for many years. 
"We always try to be a part of the community. When customers are having their cars serviced, we encourage people to go into Harlech and visit local shops by going to grab a coffee or a meal." 
When you buy from Toyota Harlech, you can expect much more than a reliably excellent customer service. Toyota is well known for producing reliable cars, and they are industry leaders when it comes to research and development – a point which interests the family as much as it does their customers. 
Iwan added: "Reliability is a key point of any Toyota car, and the company is a world leader when it comes to innovation. Toyota was the first company to bring out hybrid cars over 25 years ago. 
"It's actually fascinating to see how Toyota cars have developed from those first generation cars. 
"Toyota pumps more money into research and development than any other car manufacturer and they're always ahead of the game because of that.  
"Toyota isn't a company that shouts about it, but they've got a lot to shout about. 
"When you buy from Toyota Harlech, you can always expect reliability." 
But the quality and reliability doesn't stop there. Toyota Harlech offers in-house servicing and mechanics to their customers. Anyone who purchases a car from the dealership can make use of their trained technicians for no extra cost as part of a three-year warranty, included in the purchase of any vehicle at the store. 
"At Toyota Harlech we have trained technicians to service your vehicle, and all new vehicles come with a three-year warranty, after which a Relaxed Warranty is available with each yearly service done with us until the vehicle is 10 years old, or reaches 100,000 miles – whichever comes first," said Iwan.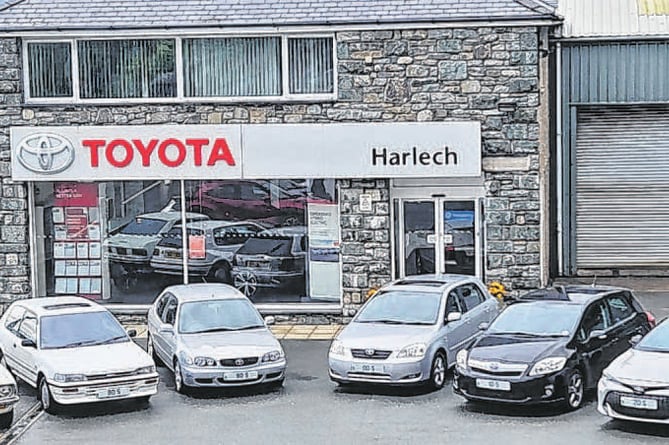 The dealership held an open weekend to celebrate its 50th anniversary, where the team displayed Toyota Corollas from every decade.
(Provided)
The dealership held an open weekend to celebrate their anniversary recently. 
Dealership owner Ann said: "It was a great day, we had a few Toyota Corollas on display, one from every decade." 
Gerallt and Ann bought the garage in 1968 but it wasn't until 1973 that they began selling cars. The couple made a decision and drove across the country to collect the first set of cars to be sold – unaware that they were about to change the store's history – establishing a business that would stand half a century, with no signs of slowing anytime soon. 
"A few years after the store opened, we started selling used cars," she said. "Suddenly we got a letter from a garage in Derby which was looking for retailers to become a dealership under them for Toyota. 
"We decided to take the offer, and travelled to Derby to collect the cars, we continued collecting the cars up until 1976 when we became a main dealership under Toyota GB. From then on, cars were delivered to us. 
"I think it was quite a shock to the people of Harlech to see a big car transporter navigating our windy roads. 
"Due to expansion of the business in 2005 we decided to move to larger premises, so we moved the business from the High Street in Harlech down the road to the site on Ffordd Newydd where we are now. 
"Looking back over the 50 years since then, I'm very glad we took the offer. I can't imagine how different things would have been if we didn't. 
"We are very lucky to have both our sons Iwan and Llion working with us, as well as Iwan's son starting in the business as an apprentice. 
"It's these family roots that make our dealership really special."