ENVIRONMENT officers have issued a warning to landowners after a Ceredigion man was fined for illegally dumping waste at an abandoned mine without a permit.
As the Cambrian News reported on Tuesday, John Rhys Bray, of Fronhaul, Trisant, appeared before Aberystwyth Magistrates' Court on 19 September where he pleaded guilty with "depositing controlled waste, namely green, inert, construction and demolition waste without the authority of a current environmental permit issued" at Wemyss Mine, Trisant between 24 September and 27 October 2021.
Mr Bray was ordered to pay a fine of £7,000, a victim surcharge of £700 and to pay £1,000 towards NRW's costs of bringing the prosecution earlier this month.
Natural Resources Wales first visited Bray's property in August 2021 after receiving reports of illegal activity at the site.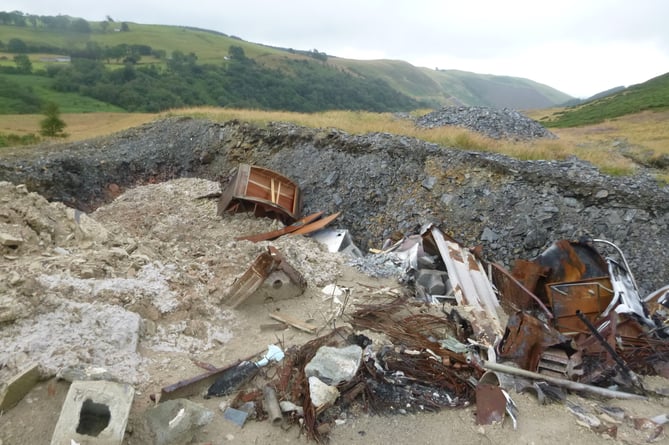 John Rhys Bray was fined £7,000 for the illegal dumping
(NRW)
NRW officers wrote to Mr Bray after the visit informing him that officers had attended the Wemyss Mine site and had identified the unauthorised deposit of waste.
He was informed that the deposit of waste on land without an environmental permit was an offence and that NRW would be conducting a full investigation. He was also told that no further waste was to be deposited or burnt at the location.
Despite this, a further visit in November 2021 found that more waste had been left on the site.
While Mr Bray did have a registered waste exemption which allowed him to deposit suitable waste to be used in a construction activity, no construction was taking place. Mr Bray was instead accepting waste material from other people to be disposed of on his land, much of which he was being paid to receive.
Jeremy Goddard, NRW's Waste and Enforcement Team Leader in Mid Wales said: "Landowners must not accept waste from others without the correct permissions being in place. They can only undertake the activities authorised by a relevant environmental permit or exemption from permitting.
"We take reports of illegally dumping waste very seriously as it has damaging effect on the local environment and undercuts legitimate operators who abide by the rules. We will not hesitate to investigate reports of illegal waste management, and to take appropriate enforcement action, including prosecution."
To report a pollution incident, call NRW's 24-hour incident hotline on 0300 065 3000 or report it online.