AN Aberystwyth delivery driver is cycling the length of the UK to raise money for a mid Wales woman's 'life-saving' treatment.
Bradley Harris, 22, is cycling over 800 miles from Land's End, Cornwall, to John o' Groats, Scotland.
A journey he has wanted to do for many years.
Three years ago he embarked on the journey on his motorbike, but two days into the trip, a car pulled out on him and wrote off his bike, and he had to come back home.
Working back in Aberystwyth as a home food delivery driver for Tesco, Bradley Harris would be inspired once again.
On a routine delivery, he met Ann, the mother of Jenny Rowbory - an Aberangell woman who suffers from Ehlers-Danlos Syndrome. A condition which means her neck can't support the weight of her head.
Jenny and her mother need to raise £750,000 for life saving treatment, which will fuse her bones, giving them the strength to support the weight. Their story inspired Bradley to attempt the journey three years after his dangerous first attempt. But this time, he would ride more than 800 miles on a push bike.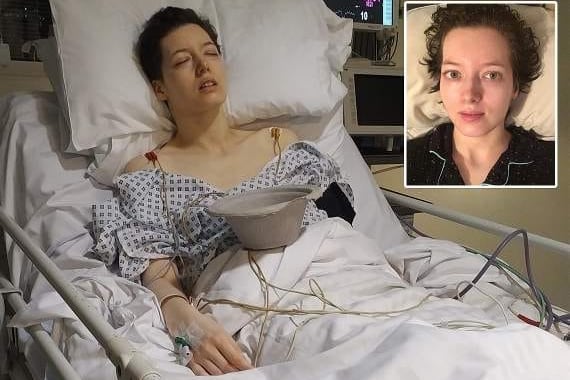 Jenny Rowbory suffers from Ehlers-Danlos Syndrome
(Supplied)
Bradley set off on 13 August.
Throughout the entire month-long journey, he will be travelling with a companion, a 'comically sized' stuffed giraffe.
It didn't take long for him to feel the weight on his bike. On the first day the giraffe sat across his seat, leaving little room for himself. Although he managed to solve that, the giraffe still acts 'like a sail' on windy days, dragging him and the bike to a stop. It's also attracted a lot of attention from passers by.
"Everybody loves the Giraffe. Everybody wants to know what I'm doing. I'm sure it looks quite surreal.
"I'm used to riding with the giraffe on the back, but there's a lot of weight on the bike, especially with all of my gear on there too - my tent, my cooker, clothes, food and my sleeping bag. Having the giraffe on top of that is a lot, especially when it's windy, it acts a bit like a sail and moves around a little bit.
"I've perfected how to get it on the bike now. On the first day I was hunched far forward as it took up most of the seat, but now I've got a lot more room.
"My chain snapped that day too. The day afterwards, my phone broke, and I spent the first half of that day trying to buy a new one. That was really challenging, trying to find somewhere to buy a phone without a phone to help you is really difficult."
Despite the challenges, Bradley had left Cornwall and was near Gloucester when he spoke to the Cambrian News, four days into the journey. The inspiration that 'drove' him to set off in the first place was still with him, and the support the 'kind-hearted people' he's met along the way have also spurred him on.
"I wanted to raise money for something that personally meant something to me, Jenny's story drives me, I see what her mum has to go through, and I can't imagine what having to care for your daughter 24/7 is like. I wanted to do what I can to help.
"They need £750,000 to cover the surgery, air ambulance costs and so on. That is a vast amount of money, they've been raising money for years but it's something you can't give up on. That's why I chose to raise that for them. They have the willpower to get there.
"Whilst what I'm earning is miniscule in comparison, I've raised nearly £2,000, I was only expecting about £500. There's a lot of really kind hearted people out there who really want to see Jenny get well.
Jenny's mum, Ann, called Bradley Harris' journey 'encouraging, and explained the importance of the surgery. She said: "To have Bradley helping in such a proactive way is so encouraging. He is young and full of life and energy, with a very kind heart.
"Jenny is fighting for her life daily waiting for this surgery. It is very scary to be in this position for Jenny and heartbreaking for me to watch her suffering so much when we know that money will change everything for her.
"Her neck and skull are supposed to be aligned straight so that the top neck vertebra called C1, which weighs only 2oz, can bear the load of the skull which is approx 10lbs. When your C1 is off centre it means the skull can sink down in this puts pressure on the brain stem. It also affects the blood vessels that twist in and out of the vertebra, causing blood flow issues as they either get squished or compressed or pulled out.
The family have raised over £200,000 towards the goal of £750,000 on their Gofundme page, which can be found here: (gofundme.com) or typing 'savejenny' on the website.