Aberystwyth Musicfest in full flow
After two years of restrictions, Musicfest Aberystwyth celebrates the renewal of musical life with a packed programme.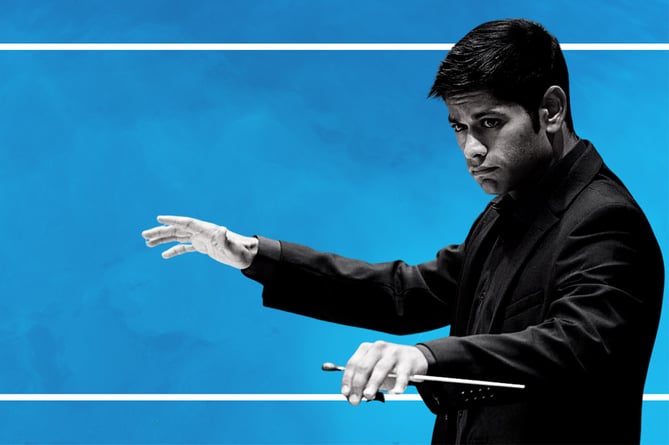 Conductor Alpesh Chauhan and the Royal Philharmonic Orchestra opened the festival
(Aberystwyth Musicfest )
Musicfest continues with more events of different sizes through till Saturday. Here are some more highlights:
Tuesday - join us to celebrate the life of Peter John Kingswood (1934 – 2021). As founder of The Friends of Musicfest, he tirelessly supported the festival for many years along with his wife Sylvia. He was both a renowned teacher and viola player who lived here in Aberystwyth. In this evening's concert, the Sacconi Quartet, the Solem Quartet, our Artistic Director, clarinettist David Campbell, and Musicfest's viola expert Graham Oppenheimer, will present a selection of music to honour the life of our great friend.
Frank Bridge's 'Lament for Two Violas forms an appropriate starting point, but the mood will then become more upbeat with Mozart's String Quintet K516, (which features two violas), Rebecca Clarke's 'Prelude, Allegro and Pastorale for Viola and Clarinet', and finally the extraordinary Octet by Felix Mendelssohn, written as a present for his violin teacher when the composer was only 16. Conrad Wilson wrote, "Its youthful verve, brilliance and perfection make it one of the miracles of nineteenth-century music."
Wednesday – 1pm– four hands on one piano, with Libby Burgess and Anya Fadina
8pm – Sacconi Quartet with David Campbell and Guy Johnston. The programme includes Schubert's mesmerising masterpiece, his Quintet with two cellos in C Major D596
Thursday – 1pm – Mezzo-soprano Maria Hegele with Libby Burgess at the piano in a wide-ranging programme
6.30pm (free) – the festival wind ensemble include Mozart's Serenade in E flat for wind Octet in their programme.
8pm – Our resident artists play Piano Quartets by Richard Strauss and Dvorak
10pm (free) – The strings of Sinfonia 1 play Schoenberg's beautiful 'Transfigured Night', presented in the dark.
Friday -1pm- Piano phenomenon from Cardiff, Tomos Boyles, winner of the 2021 Wales International Piano Competition, plays (entirely from memory) a vivid programme including Chopin, Debussy, and Shostakovich.
8pm – 'Towards Silence'- a packed programme for mezzo-soprano Maria Hegele, Anthony Friend, clarinet, Simon Lane, piano, and the Solem Quartet. Works by Brahms, Chausson and Barber are book-ended by new compositions by John Metcalf and Richard Blackford, the latter being his Clarinet Quintet 'Full Moon', inspired by 'Un Nos Ola Leuad' by Caradog Pritchard.
But it is the piece by John Metcalf which lends the concert its name, being a new commission premiered last October. 'Towards Silence' is an attempt to express in music the tragedy of species extinction which we see occurring all around us. As can be guessed, John found it a challenge to write, but the result is amazing.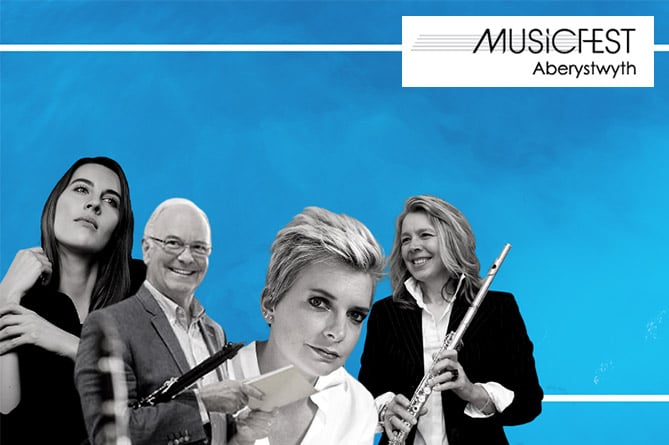 A host of talent comes together for an evening of Mozart to close the festival on Saturday, 30 July
(Aberystwyth Musicfest )
At the core of the piece is the concept of unravelling. Just as the ecosystems of the Earth are beginning to 'unravel', in that component parts of the formerly coherent systems are disappearing, so does the second movement of 'Towards Silence' unravel musically, in its progress towards silence.
It has a theatrical dimension and is better experienced in person rather than heard just as sound, because there are moments during the music when the quartet just freeze. Time stops for the audience, though the pauses are of course strictly measured by the players. At its premiere there was an awed silence before the applause. Audience member Carol Carpenter wrote afterwards, "The piece about the death of species was spine-tingling. What a responsibility for the composer and what a success. I shall remember it for a long time."
This should not be missed.
Saturday - 8pm - 'Mozartfest' will be a great handover concert, celebrating the talents of our retiring Artistic Director, David Campbell, and our incoming Director, Catrin Finch, in company with our resident small orchestra 'Sinfonia 1' One imagines the sadness of goodbye mixed with anticipation of what may come
A hopeful way to bring our programme to a conclusion.
Lunchtime Recital - Piano Duets - Libby Burgess and Anya Fadina.
Evening Concert - In Memory of Peter Kingswood 1934-2021.
Lunchtime Recital - Piano à deux with resident Musicfest pianists Libby Burgess and Anya Fadina.
Evening Concert - Sacconi Quartet with David Campbell (clarinet) and Guy Johnston (cello).
Lunchtime Recital - Maria Hegele (mezzo-soprano) and Libby Burgess (piano).
Evening Concert - Sigyn Fossnes (violin), Graham Oppenheimer (viola), Kari Ravnan (cello), Anya Fadina (piano) and Simon Lane (piano).
Young Artist Lunchtime Recital - Tomas Boyles (piano).
Evening Concert - Maria Hegele (mezzo-soprano), Solem Quartet, David Campbell (clarinet) and Simon Lane (piano).
Evening Concert - Sinfonia 1 conductor Toby Purser, Catrin Finch (harp), Karen Jones (flute), Maria Hegele (mezzo-soprano) and David Campbell (clarinet).
Full details of the programme can be found on the Musicfest website, with links to Aberystwyth Arts Centre Box Office for bookings.
As we continue to protect and grow quality local journalism, Cambrian News is considering experimenting in the future with some form of paid-for content on our website.
If you'd like to help shape how that may look and secure some free credits if we do go live then please register  here.