Neuadd Dwyfor in Pwllheli hosts a production of Draenen Ddu this Saturday (7 October, 7.30pm).
Angharad Tomos' translation of Blackthorn by Charley Miles is about the only two children born in a village for a generation who cannot imagine ever being apart. But as their lives shift, so too do the ties that bind them.
The countryside is changing and traditions and age-old place names are under threat. The show is described as a highly relevant piece for today's community audiences.
Rhian Blythe and Siôn Pritchard make up the cast and the director is Betsan Llwyd. Age guidance is 14+ due to use of strong language.
Then next Thursday (12 October, 7.30pm) the venue hosts an evening of folk music with Twm Morys and Gwyneth Glyn, and Gwenan Gibbard and Gwilym Bowen Rhys, to celebrate the recent release of two new albums on the Sain label – Tocyn Unffordd i Lawenydd (Twm Morys and Gwyneth Glyn) and Hen Ganeuon Newydd (Gwenan Gibbard).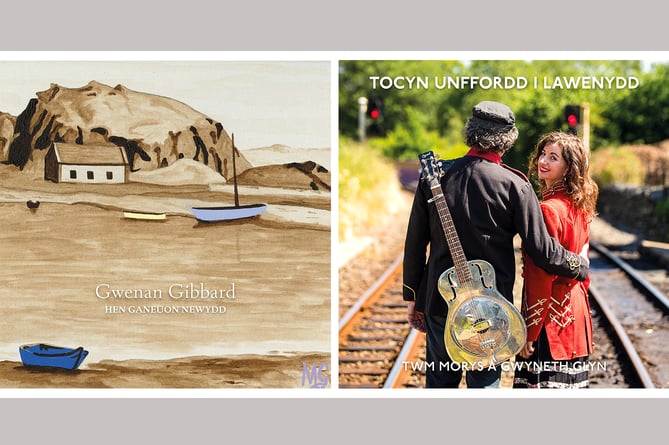 The night will celebrate albums by Twm Morys and Gwyneth Glyn, and Gwennan Gibbard
(Images supplied)
Tocyn Unffordd i Lawenydd is the first offering of the singer-poet Twm Morys, frontman of the folk-rock group Bob Delyn a'r Ebillion, alongside poet-songstress Gwyneth Glyn. The album is a collection of multi-layered arrangements of folk songs and original material, though it's hard sometimes to tell which is which!
Hen Ganeuon Newydd features the folk songs of the Llŷn Peninsula and neighbouring Eifionydd – Gwenan's home area.
A reflection of a rural and simple way of life at the end of the 19th century and the beginning of the 20th century, the songs stem from close-knit communities and speak of local characters and happenings, love and loss, bringing together the traditions of the land and the sea.