Regional scientists and environmentalists have laid out the actions that need to be taken to rapidly improve the health of rivers in Ceredigion and Gwynedd – before it's too late.
The plight of polluted waterways like the Teifi, the Dyfi, the Ystwyth and the Mawddach have been thrust back into the spotlight again in the last few months.
Mid Wales MS and Welsh Liberal Democrats leader Jane Dodds chall­enged Labour First Minister Mark Drakeford in the Senedd over the sluggish progress being made by authorities on his watch.
The nation's primary water supplier Dŵr Cymru has been heavily criticised in the last two years as public engagement with sewage discharging and phosphate pollution has skyrocketed.
Environmental regulator Natural Resources Wales (NRW) has come under fire for its lack of enforcement and a perceived toothlessness due to 'underfunding'.
45kg
The daily amount of phosphorous discharged in the Teifi
As the Cambrian News reported, seas, rivers and waterways in Dwyfor Meirionnydd endured the second highest levels of sewage pollution in England and Wales last year – and Ceredigion the ninth most.
The UK's private water companies are legally entitled to release sewage to relieve pressure on the system, mostly during periods of extreme weather – a practice they euphemistically refer to as combined storm overflows (CSOs).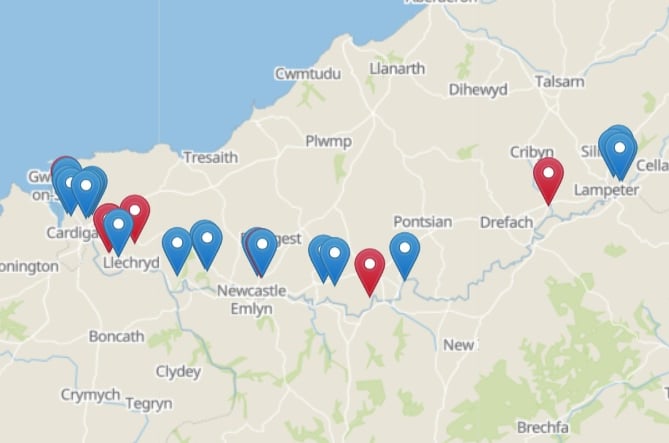 An interactive map shows exactly how many times raw sewage has been pumped into the River Teifi last year. Visit https://top-of-the-poops.org/waterway/dwr-cymru-welsh-water/river-teifi
(Top of the Poops)
But discharges like this do not even begin to tell the full story.
As the Cambrian News has reported, the health of the river Teifi – Wales' longest river – has also been on the radar of authorities for several years, with pollution from harmful substances nitrates and phosphates a particular concern.
Dŵr Cymru and NRW data suggest there is approximately 45kg of phosphorus discharged daily in the Teifi, but sewage overflows only contribute to about three per cent of it.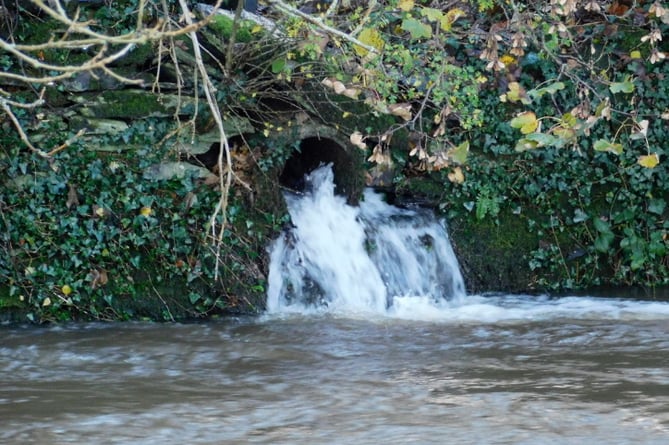 A combined storm overflow at Llandysul park, photographed by Robert Winter
(Robert Winter)
NRW and Dŵr Cymru's Phosphorous Source Apportionment Summary report, updated in December, states: "Effluent from sewage treatment works accounts for 66 per cent of the average daily load (kg/d) with rural land use contributing 30 per cent, storm overflows contributing three per cent and a further one per cent from other sources including septic tanks and urban run-off."
Phosphorous pollution is said to boost algae growth which is linked to plant and fish deaths – and resulting damage to ecosystems and life in rivers particularly.
In 2021, Ceredigion County Council was compelled into halting many planning applications along the length of the river, introducing tighter NRW-ordered planning regulations to combat developments that would increase already dangerously high phosphate levels. Last month, the number of paused plans stood at around 100.
Campaigners and the public call for immediate improvements of the network to prevent sewage overflows and raw fallout from treatment works. Others call for more stringent action against environmentally degrading agricultural practices and slurry pollution – including fewer farms, particularly Intensive Poultry Units (IPUs), being granted permission.
A new 'pollution-busting' credit scheme has been put forward by Pembrokeshire, Carmarthenshire and Ceredigion councils who joined together in 2021 to take action to improve the health of the Teifi.
The phosphate credit scheme could enable developers and their applications to make progress in return for implementing measures to bring down levels of harmful chemicals in the river.
100
The number of planning applications along the Teifi currently on hold due to phosphate concerns
The idea is that wetlands and other nature-based ways of mitigating phosphates – present in sewage and agricultural run-off – would be created.
Those wetlands would then generate credits to be sold to developers as a means of mitigating the phosphate impact of new properties in river catchment areas designated as special areas of conservation (SAC).
Elsewhere, Ceredigion County Council launched the Afon Teifi Phosphate Reduction and Mitigation Project (PRAM) in October 2021.
The authority says the project aims to 'contribute' to a reduction in phosphate levels but does not commit to any explicit targets to bring levels down by a set amount. It has also been confirmed to the Cambrian News that the scheme, financed by millions of pounds of grant funding, has still seen 'no works on the ground carried out to date' - almost a year and a half after the scheme was launched.
Delivery of the project is also delayed by at least three months due to issues appointing a project officer and other complications.
A county council spokesperson said the aim of the project is to 'reduce inputs of phosphate as well as instigating engagement with the local community'. It will create 9km of riparian buffer strips, look at creating two integrated wetlands, implementing farm management plans while installing sustainable drainage systems and public information boards.
What the experts have to say
Other solutions have been put forward by regional experts.
World-leading hydrologist and ex-Aberystwyth University lecturer Professor Tony Jones said: "Water pollution, especially from agriculture is clearly a problem that has been increasing – and notably has been delaying planning permission for housing along the Teifi.
"Some has been due to occasional overflows from manure storages and fines have been issued, though finding the culprits can be time-consuming and costly. Better funding for the NRW is an obvious answer.
"
Where to go from here apart from warning human beings is a big conundrum.
World-leading hydrologist Professor Tony Jones
"There is a wider issue, illustrated by warnings that beaches can be dangerous after heavy rain.
"This can be due to overload in sewage treatment plants. But more widely, it is due to runoff from farmland following heavy rainfall washing animal waste into rivers.
"This is more difficult to deal with. The only measure currently operating is to restrict muck-spreading during the winter rainfall season, but natural defecation occurs all the time.
"Reducing the number of animals is obviously not a solution favoured by farmers.
"So where to go from here apart from warning human beings is a big conundrum - and who's going to warn the fishes? Climate change is going to exacerbate this as well."
West Wales Rivers Trust project officer Nathaniel James spelled out to the Cambrian News what was needed to reduce pollution in the Teifi.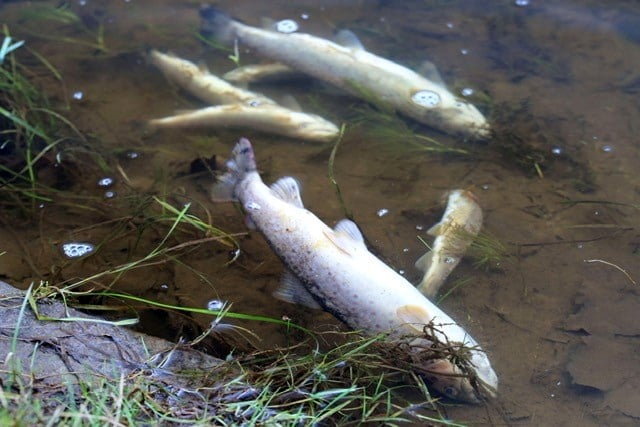 Failure to meet phosphate targets could ultimately lead to some fish completely disappearing from our rivers, experts say
(Picture supplied)
He said: "To tackle phosphate pollution in the Teifi more investment and support is needed in the infrastructure of wastewater treatment works, sustainable drainage, and nature-based solutions such as integrated constructed wetlands, which naturally treat wastewater before entering rivers, and act as carbon sinks.
"Similar can be incorporated into farmland, where field drainage ditches can terminate in wetlands or sediment traps, while stock can be fenced out from tributaries. These actions can work alongside usual operations with minimal impact on food production.
"There is potential for farmers to capture and slow the flow of floodwater providing great benefit to downstream communities, while also reducing diffuse pollution by adopting natural flood management techniques and incorporating silvopasture as a mutually beneficial grazing option."
Silvopasture is the practice of integrating trees, foliage and the grazing of domesticated animals in a beneficial way for the entire ecosystem.
60%
The percentage of Special Areas of Conservation rivers failing against their phosphate target
NRW reports that only about 40 per cent of Welsh rivers are rated as 'Good' or better status, which is still far greater than only 15 per cent of English rivers and waterways.
But it also reported in 2021 that over 60 per cent of Wales' Special Areas of Conservation (SAC) rivers are failing against their phosphate target.
And one of the tangible results of this is that salmon could completely disappear from Welsh rivers in the next few decades, according to a recent report – with the Teifi, Rheidol and the Dyfi some of the worst affected.
The report states: "The slope of the decline varies significantly between rivers, being particularly steep in the rivers Usk, Teifi and Rheidol.
"Salmon may become extirpated from most Welsh rivers within two decades."
A spill at Pencefn Dryscol farm near Tregaron in 2016 is estimated to have released 44,000 gallons of animal waste into the Teifi in 2016 from an Anerobic Digestion Plant - without the farm facing any punishment.
After questions from the Cambrian News, the farm recently dismissed claims the Teifi remains exposed to pollution threats from the plant, the leak from which is alleged to have killed an estimated 18,000 fish.
Anaerobic digestion plants are held up as a solution to the slurry problem, particularly the waste caused by highly damaging IPUs.
"
The Welsh Government must act fast to tighten up and implement robust legislation, invest in an enforcement team at NRW, and ensure they take a hardline approach against the biggest polluters.
Laura Sanderson, chief executive of the North Wales Rivers Trust
But activists from Environment Action Talybont, an umbrella group who staged theatrical protests in Aberystwyth last week, say the plants are no solution as the incident demonstrates.
They also raised concerns over plans for a poultry farm near Talybont, which they claim will pollute the river Leri and the Dyfi, damaging a rare orchid population and other protected species in the Ynyslas estuary and nature reserve. It would also impact Cyneiniog Ceulan as well as other rivers flowing into world-renowned Cors Fochno bog.
The group says IPUs are less like farms and more akin to 'industrial-sized factories' that do far more environmental damage. They are a major source of phosphorus which gets into rivers from chicken droppings in agricultural run-off.
Salmon populations are also in serious decline in north Wales, with the River Seiont and Dwyryd seeing the third and fourth fastest decline of all the nation's rivers.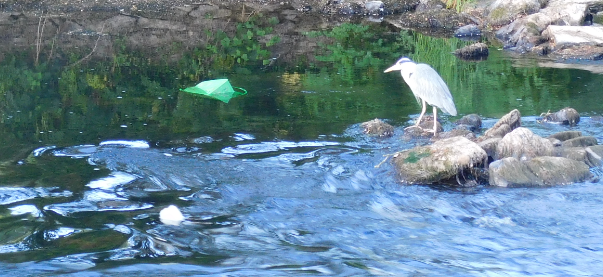 Green agricultural plastic, white soapy foam and a heron on the Teifi at Llandysul
(Robert Winter)
Chief executive of the North Wales Rivers Trust, Laura Sanderson, att­ributed this to sewage and 'silent polluters' like phosphorous.
"The collapse of river ecosystems in north Wales is a stark reality, brought on by a combination of issues that have created a perfect storm of ecological collapse," she told the Cambrian News.
"All rivers in Wales are facing serious issues, which demand urgent funding and legislation to reverse and halt the current damage.
"The issue of high sewage releases, permits being breached, and unpermitted combined sewer overflows with the largest spills is concerning.
"Unregulated septic tanks in rural areas are leaching sewage into the land and watercourses, while large chicken farms are being permitted in poorly located areas without enough infrastructure to sustain them.
"The expansion of dairy farms without sufficient infrastructure, which is legally permitted, due to lack of legislation from the Welsh Government is impacting rivers. Legislation around fertiliser use and soil health in terms of nutrient loss needs to be robust.
"The responsibility of holding the biggest polluters accountable lies solely with NRW, yet the enforcement team is underfunded and lacks staff.
"
The collapse of river ecosystems in north Wales is a stark reality, brought on by a combination of issues that have created a perfect storm of ecological collapse.
Laura Sanderson, chief executive of the North Wales Rivers Trust
"The Welsh Government must act fast to tighten up and implement robust legislation, invest in an enforcement team at NRW, and ensure they take a hardline approach against the biggest polluters.
"All of Wales' rivers are at risk from an outdated sewerage system, unregulated septic tanks, and freshwater pipe bursts which can cause more devastation to freshwater environments by leaching phosphorus, causing eutrophication.
"The topography of land and coast across north Wales may also lead to some of the worst flooding in Wales due to climate change induced drought and storms causing flash floods, exacerbating the issue of CSO spills and agricultural runoff.
"The North Wales Rivers Trust is leading efforts to develop and implement Natural Flood Management plans for all rivers in our north Wales catchment. Restoring rivers, increasing habitat, slowing the flow of the river and filtering pollutants."
A Welsh Water spokesperson said: "As a company, we take our responsibility to protect the environment seriously and invest around £1 million a day in improving and maintaining our networks and services. In the decade to 2025, we are investing £1.5 billion in our wastewater system, with £140m for storm overflows between 2020 to 2025 and a further £420m planned from 2025 to 2030.
"We are investing an additional £60m specifically to reduce phosphorus in the five failing Special Area of Conservation (SAC) rivers in our operating area in our current investment cycle. To play our part in helping to improve the Teifi, we're investing at our wastewater treatment works at Lampeter and Llanbydder between now and 2025. This work will reduce the phosphorus coming from the works. We will also be working to deliver further phosphorus removal projects and/or permits at more sites along the Teifi until 2032.
"Welsh Water is also currently part of the regional West Wales Nutrient Management Board (NMB), which oversees the governance of phosphorus mitigation covering three SAC rivers, the Teifi, Cleddau and Tywi. Our investment will play a vital role in reducing phosphorus levels in SAC rivers, helping restore river compliance and quality as well as relieving pressure on local planning."
National Farmers' Union Cymru said: "The agriculture industry is committed to making improvements in water quality where these have been shown to be needed. NFU Cymru is clear that this should be done on the basis of evidence and by working in partnership to develop local solutions to local problems.
"As farmers, we recognise the role farming has to play and have made great strides in recent decades in reducing pollution from agriculture including investing in on-farm infrastructure, changes to soil management, cover cropping, watercourse buffering using vegetation as well as a greater understanding of the nutrient values of manures and targeting their application in line with crop need."
An NRW spokesperson said: "Improving water quality in our rivers and on our coast is one of our biggest priorities, and we are working with key stakeholders across industries to reduce pollution sources.
"Through our work on the Wales Better River Quality Taskforce we are assessing the performance of overflows and tightening our regulation. We are using the evidence and data we have to oversee vital improvements and investments made by the water companies.
"We have called on water companies to step up and take action after our annual environmental performance reports for water companies highlighted an increase in pollution incidents and decrease in compliance with environmental permits for sewage discharges. The deterioration in performance by Dŵr Cymru Welsh Water led to the company being downgraded from four-star company status in 2021 to three-star last year. The decline in environmental performance is disappointing and we expect them to respond positively with renewed effort, and to drive forward improvements.
"We are working in partnership through membership of the existing and emerging Nutrient Management Boards to address phosphate pollution and conserve our most precious Special Area of Conservation rivers, as well as restoring our iconic rivers through our flagship Four Rivers for LIFE and Dee LIFE projects.
"We are planning a compliance and enforcement programme of high-risk agricultural activities across Wales, after securing additional funding from Welsh Government. This will focus on farms producing high levels of organic manures, or importing organic manures which includes digestate, biosolids and other wastes recovered to land. We will map out these high-risk activities to guide the deployment of staff.
"We will shortly be embarking on a recruitment drive for officers that will lead on the compliance and enforcement of the Control of Agricultural Pollution Regulation inspections on sites where higher risk activities are taking place.
"Preventing incidents from occurring in the first place is our ultimate goal and is the best thing for the Welsh environment. By working with companies and individuals to do the right thing in the first place, we avoid environmental damage, costly investigations and court cases, allowing us to use our limited resources on more positive action."