In two days' time, saxophonist and broadcaster Jess Gillam will perform at Aberystwyth Arts Centre and she cannot wait to see some of you there, as she explains in her video to the Cambrian News.
Jess continues to animate the music world, bringing classical music to new audiences through both her captivating collaborations and her presenting work on television and radio.
Hailing from Ulverston in Cumbria, Jess's 2023-24 season sees her travel across the UK, Europe and America, showcasing the breadth of the saxophone through her outstanding talent and infectious personality.
Jess will join Sinfonia Cymru for four concerts this month, including one at Aberystwyth Arts Centre on Sunday.
The programme includes Bowie to Max Richter, Marcello to Sørensen plus Welsh folk song Ar Hyd y Nos.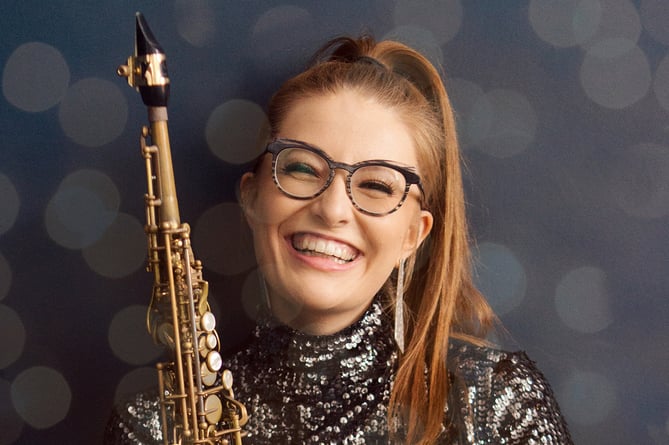 Saxophonist Jess Gillam
(Sam Becker)
Jess said: "I can't wait to be back in Wales later this month! I'm playing four concerts with Sinfonia Cymru and we have a massive range of music – from David Bowie to baroque and some Welsh (and Cumbrian!) folk tunes to a piece by the amazing Ayanna Witter Johnson. Hopefully there'll be something for everyone to enjoy and we'd love to see you there."
Jess has been forging her own adventurous path since she shot to fame becoming the first saxophonist to reach the finals of BBC Young Musician and the youngest ever soloist to perform at the Last Night of the Proms.
Passionate about inspiring and bringing joy to people through music, Jess invites audiences on journeys of musical discovery through her electrifying performances and eclectic programming.
She became the youngest ever presenter for BBC Radio 3 with the launch of her weekly show, This Classical Life. The show is in its fifth year now and in 2020 won the prestigious ARIA Award for Best Specialist Music Show.
Jess is the first ever saxophonist to be signed exclusively to Decca Classics and both of her albums reached No. 1 in the UK Classical Music Charts. Her debut album was listed in The Times Top 100 albums of 2019. She has been the recipient of a Classic BRIT Award, has been nominated for The Times Breakthrough Award and was awarded an MBE in the Queen's Birthday Honours list 2021 for services to music.
A free spirit in style and character, Jess is an advocate for the power of music in society. She is passionate about inspiring and bringing joy to people through music and during lockdown, she formed her 'Virtual Scratch Orchestra', inviting musicians of any standard to come together to play music virtually with her.
The orchestra played music by David Bowie and The Beatles as well as a Christmas special of Leroy Anderson's Sleigh Ride. Over 2,000 people, aged from two to 94, from around 30 different countries took part across the two projects, playing a huge range of instruments.
Jess performs at Aberystwyth Arts Centre at 7pm on 19 November, and you can hear more about what to expect on Sunday in our video above.