The origin of the largest "bluestone" at the heart of Stonehenge has been thrown into doubt by Aberystwyth University research.
For the past 100 years, the six-tonne Altar Stone was believed to have come from Old Red Sandstone in south Wales.
This was assumed to be close to the Preseli hills in west Wales where the majority of Stonehenge's world-renowned 'bluestones' came from.
Formed when molten rock crystallised, the Pembrokeshire bluestones are believed to have been among the first erected at the Wiltshire site around 5,000 years ago.
The Altar Stone, a sandstone, has traditionally been grouped with the other, smaller, igneous bluestones, although when it arrived at Stonehenge is unclear.
Now, in an attempt to locate its source, scientists at Aberystwyth have compared analyses of the Altar Stone with 58 samples taken from the Old Red Sandstone across Wales and the Welsh borders.
The composition of the Altar Stone cannot be matched with any of these locations. The Altar Stone has a high barium content, which is unusual and may help in identifying its source.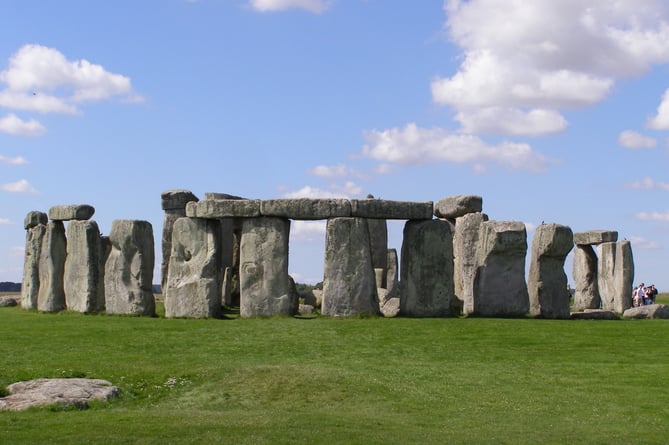 Stonehenge in Wiltshire is believed to be largely made up of bluestones from the Preselis
(Wikipedia)
Professor Nick Pearce from Aberystwyth University said: "The view in terms of the conclusions we've drawn from this is that the Altar Stone doesn't come from Wales. Perhaps we should also now remove the Altar Stone from the broad grouping of bluestones and consider it independently.
"For the last 100 years the Stonehenge Altar Stone has been considered to have been derived from the Old Red Sandstone sequences of south Wales, in the Anglo-Welsh Basin, although no specific location was identified.
"The Altar Stone appears not, in fact, to come from the Old Red Sandstone of the Anglo-Welsh Basin - it is not from south Wales.
"Attention will now turn to the other areas, like northern England and Scotland, areas where the geology is right, the chemistry is right, and Neolithic activity is present, to ascertain whether any of these sandstones have characteristics which match the Stonehenge Altar Stone."
Professor Pearce added: "Hopefully these findings will help people to start looking at the Altar Stone in a slightly different context in terms of how and when it got to Stonehenge, and where it came from. Hopefully this will lead to some new thoughts about the development of Stonehenge."