THE county's Primary 5s competition for primary schools in collaboration with the Ceredigion Schools Football Association (CPDYC) and Ceredigion Actif, was held for the first time on Aberystwyth's Blaendolau playing fields on Tuesday, 10 October.
On a beautiful, sunny autumn day over 200 pupils came together, representing 22 teams in order to compete for the privilege of representing Ceredigion in the Primary 5s national tournament in 2024.
After a busy day of keen competition, 67 games were played.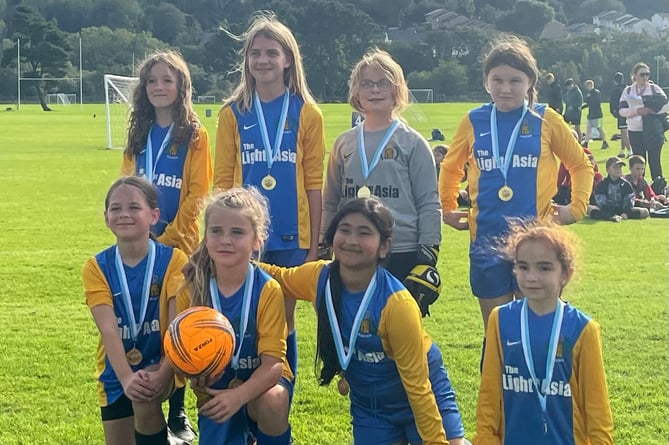 Ysgol Plascrug's girls
(Submitted)
Ysgol Plascrug's girls were victorious in the girl's competition defeating Ysgol Y Dderi by 5-2 in the final.
Ysgol Gymraeg Aberystwyth came out on top in the mixed competition by beating Ysgol Plascrug by 6-0.
Ceredigion Schools Football Association officers would like to thank the schools, teachers, coaches, parents and players for supporting the competition and for their positive feedback. The standard of football was very high and the games were played in the correct spirit.
They would also like to thank Llŷr Jones from Ceredigion Actif and his team of volunteers for their hard work in organizing the games, refereeing and ensuring the smooth running of the day, and the Blaendolau staff for preparing the pitches and to Mr Gwynne Davies for the use of the sound system.
They also wish Plascrug Girls and Ysgol Gymraeg Aberystwyth well when they represent Ceredigion in the national finals in May 2024.
This is the first time the Primary 5s competition has been held in Ceredigion and they are looking forward to attracting more schools and teams to compete in the 2024 competition.