Aberystwyth Sea Rowers returned to the Great River Race this year, with two Aberystwyth teams among the hundreds challenging 21.6 miles of the River Thames
The two teams of Jon Bell, Max Entwistle, Tom Cartwright, Andy Bakewell, Jennifer Wood and Great Compton (Team Fire and Fairies) and Jenny Fothergill, Mick Fothergill, Bethan Roberts, Jude Macklin, Mark Macklin and Will Troughton (The Love Boat) set times of 2 hours 46.33 and 2 hours 51.20 respectively to take third and fourth places in their class.
This followed Aberystwyth's competitive showing at Fishguard on 10 September, with the men's team of Alun Gwynne, Bleddyn Jones, Chris Haines and Alistair Sibley coxed to second place by Louise Russel. Russel, Gwynne and Jones would then join with an additional rower on loan from Aberporth rowers to take third place in the mixed event coxed by Dorian Davies.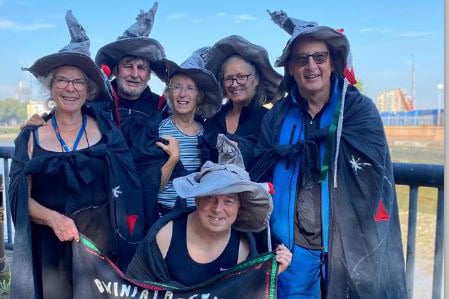 Jenny Fothergill, Mick Fothergill, Bethan Roberts, Jude Macklin, Mark Macklin, Will Troughton
(Tom Cartwright)
These results cap off a successful season for Aberystwyth's Sea Rowers. Beginning in April with a men's team third place at RWYC's 13 mile Castle to Castle race, the club's men would then take first place overall at Beaumaris Rowing Club's Puffin Island Race.
June would see Aberystwyth back in action, with two boats tackling Solva RWC's Ramsey Island Challenge Race through eight miles of Ramsey Sound and July would see Aberystwyth's home regatta building on the success of 2022 with an increased number of entrants across multiple categories. The same month saw Aberystwyth take first in the men's category at Pembroke Yacht Club in Milford Haven.
Aberystwyth Town Sea Rowers are continuing to grow, and welcome new members of all abilities. Contact them via their social media channels or at [email protected]